Choosing a Coverking Car Cover For Your Miata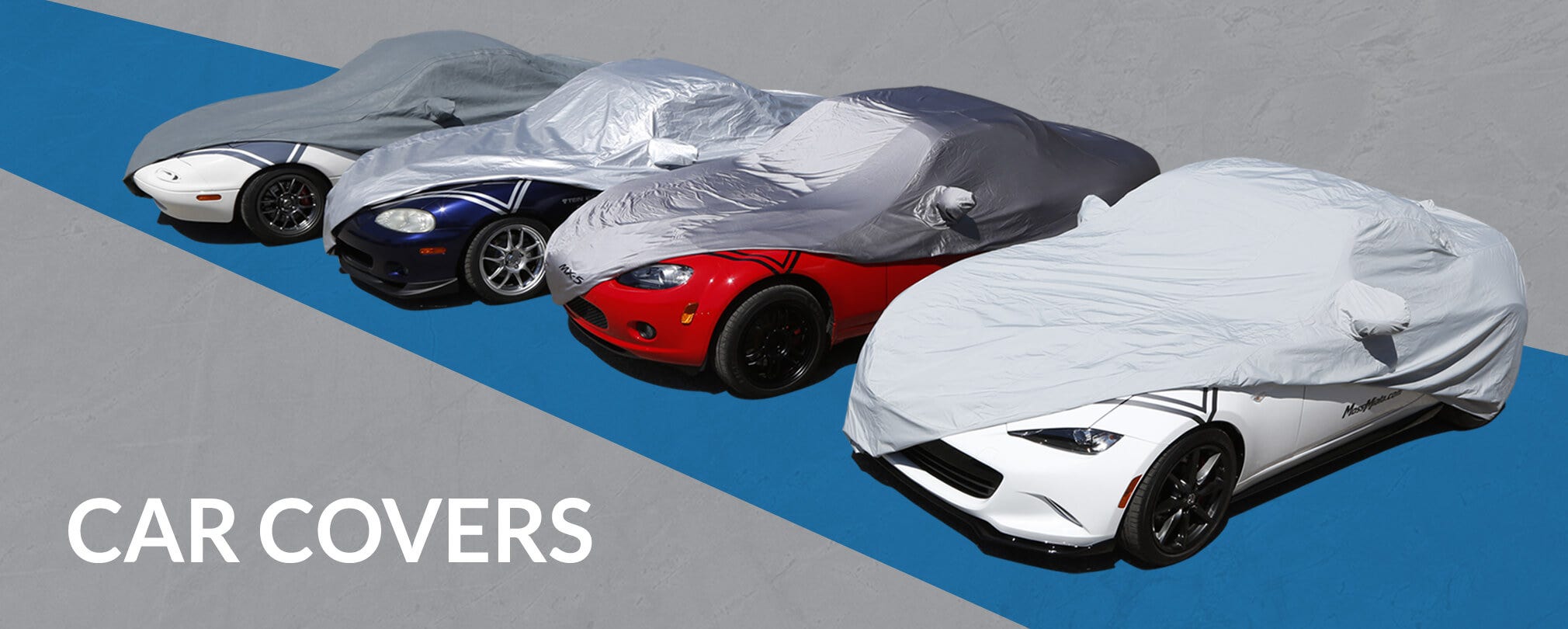 This buyer's guide has everything you need to know when buying a cover for your Miata. From what a car cover is and its application to the variety of covers we offer, followed by a comparative study of them all, we'll cover information that would help you make an informed decision when getting a cover for your MX-5. And just in case you think we missed something, give us a call and we'll be glad to help! So, here goes your Car Covers guide.
1. What Is A Car Cover And Why Should You Get It?
A car cover is simply that, a cover for your car. Made from a large sheet of fabric it shields your car from the elements, and aids in the long-term maintenance of your vehicle. You can choose a cover in a universal fit that should fit most cars or get one that is custom tailored to fit your car. Featuring a host of features, a car cover is a must have accessory for every car owner.
Here's Why You Should Get a Car Cover
The combined effect of natural elements can take its toll on the look and finish of your sports car. Rain, scorching sun, wind, dust and debris over time inflict dents and dings that wear down your car and keep it from looking new and shiny! Even a shady spot under a tree is not safe. Tree-sap, pollen, bird droppings, insects nesting in the tail pipes, or just squirrels running on the top can wreak havoc on your car and spoil much more than the paint-job. A car cover in such situations comes in handy as it keeps your Miata from the abrasive effects of the elements, and even from the accidental dents or scratches from a passerby's keys. Also, it deters vandals or thieves from spending time uncovering your car before damaging or stealing it. Keeping your vehicle cool in the sun, this small investment goes a long way in the safeguarding and upkeep of your sports car!
Keeping your Miata covered with a car cover is a great way to:
Shield it against damaging weather.
Prevent unsightly abrasions, dents and scratches.
Shield your car from insects, birds or animals.
Prolong the paint-life of your car.
Deter thieves and vandals.
2. Choosing The Right Cover For Your Miata
When deciding the right cover for your MX-5, we recommend keeping in mind a couple of factors:
The Weather or Climate Where You Live: Harsh weather conditions can definitely do a number on your Miata, which is why having a car cover built to shield your vehicle is important. If it rains more in your area, or if you live along the coast, then moisture and salt will seep into abrasions or scratches and start corrosion. If it is hot and sunny, then the intense radiant heat of the sun and harsh UV rays will fade the color right out of your car. Getting a cover that has exceptional water resistance or extra UV and photo-degradation protection with some reflective properties makes most sense in these two cases. So, think about the weather patterns in your area before deciding which car cover suits your Miata the best!
Where You Park and How Frequently You Drive Your Miata: Choosing the right color and thickness of the cover depend on how frequently you drive you Miata and where you park it.
Here are a few pointers to guide you:
Dark covers on light-color cars often have the potential of bleeding out. So be more cautious.
If you park your Miata in a garage and frequently use it, a lightweight indoor car cover is ideal.
If you park outside, you may want to select a lightweight outdoor car cover that's easy to use and fold.
If you park in crowded lots, or on streets with heavy pedestrian traffic, choosing a thick, heavyweight outdoor car cover which protects your car from scratches and dents is best.
If you plan on storing your Miata for long term, then get a heavier indoor car cover.
3. Why Should You Choose Coverking?
The Coverking Advantage
We choose Coverking for the simple fact that the quality of their covers is the best! Coverking designs its own fabrics and works with the world's leading textile mills to handle manufacturing. With quality assurance teams dedicated to check every batch of fabric, Coverking ensures that the material used in the products meet the most stringent assessments. The car covers go through a series of tests to see if the material is breathable, allowing for the proper release of moisture. The fabrics are exposed to intense UV rays to make sure they don't fade over time. The materials are stress tested to see if they hold up for everyday conditions. Above all, the covers are checked before reaching customers to ensure quality.
The covers are designed using as few seams as possible. Extra seams only increase the chance of leakage. Thus, by eliminating seams, Coverking produces car covers which boast the best all-round-fit without compromising quality. The custom covers are specially designed and constructed using the latest double-needle sewing techniques to ensure fine craftsmanship and durability, with a backup stitch sewn in for extra support. All outdoor custom car covers are sewn with heavy, wax coated thread to ensure water resistance.
The Custom Fit Advantage: A bespoke car cover hugs every contour of your Miata's body compared to the baggy, one-size-fits-all covers which slip and slide on your car. Like a fine suit, your cover is made to fit the curves and features of your vehicle. The designers at Coverking spend time with different Miata models, and use 3D scanners to record every detail. This data is used to create a world class cover with the fewest seams possible! Featuring sewn-in mirror pockets, plus grommet holes for antennas, these covers snugly wrap up your Miata and prevent the elements from sneaking in through the gaps and damaging your vehicle's exterior.
4. Coverking for Your Miata
Here's our choice offering of the best of Coverking's car covers.
A. MOSOM PLUS™ CAR COVER: Rugged All-Weather Protection
The All-Weather Mosom Plus is designed to protect your Miata in rain, light hail and even snowy conditions! This multi-layered, non-woven car cover is extremely durable. Designed to have the least number of seams, the fabric is double stitched with wax-treated threads to prevent water leakage. The Mosom Plus car cover has a top polyester layer which acts as a UV inhibitor to protect your MX-5 from the damaging UV rays and highly breathable inner layers of polypropylene and polyester to provide water resistance. The innermost layer of polyester-felt embraces your car with a soft touch. With superb features like UV resistance, breathability and water resistance, the Mosom Plus car cover is an ideal choice for areas with moderate and rainy weather.
Features:
Great comprehensive protection
Elasticized edges keep dirt and dust out
Matching mirror and antenna pockets included
Soft fleece inner-liner to pamper vehicle's finish
Robust 5-layer material for maximum protection
Custom-fit to mold to the exact specifications of your vehicle
Multiple layers of polyester spun-bound fabric and meltdown polypropylene
B. REFLECTIVE SILVERGUARD™ CAR COVER: Amazing UV Protection
If you live in a desert climate, Coverking's Silverguard car cover is ideal for your needs. Made from a unique water-resistant, 300 dernier, silver coated polyester with special reflective properties, it provides maximum protection from the sun's damaging UV rays and will shield your car from rain, snow, dirt and pollutants in the air. This custom-cover is manufactured specifically for your Miata to ensure the best protection and fit possible. Available in reflective silver.
Features:
Unique 300 dernier, breathable polyester fabric
Soft and compact cover, easy to put on and store
Custom-fit design includes mirror and antenna pockets
Covered grommets provided for optional cable and lock kit
Heavy wax-coated thread for durable and leak-resistant seams
Ideal for mild temperate climates (not intended for extreme weather)
Highly breathable fabric prevents build-up of moisture under the cover
Special neoprene elastic tensioners in front and rear hold the cover firmly in place
Strong heavy weave using double-needle overlapping seams which will not rip or tear
Protects from sun, rain and other elements which can damage the finish of your vehicle
C. INDOOR SATIN STRETCH™ CAR COVER: The Ultimate Indoor Protection
Coverking's Satin Stretch indoor car cover provides superior protection for your Miata from dirt, dust, nicks, bumps and scratches. Made with an elastic synthetic fabric, the cover stretches in all directions and molds to the contours of your MX-5 to highlight its design. The cover includes a unique fleece lining allowing for a soft enclosure all around.
Each cover is made with your car in mind and includes mirror and antenna pockets to create a complete custom fit. This cover is meant for indoor usage only and is not intended for outdoor exposure.
Features:
Indoor use only
Made of form-fitting lycra fabric
Elasticized edges keep dirt and dust out
Matching mirror and antenna pockets included
No straps or tie-downs needed to secure the cover
Custom-fit to mold to the exact specifications of your vehicle
Three-piece construction using blind stitching to hide all seams
Ultra-plush fleece liner for double protection and to pamper your car's finish
D. STORMPROOF™ CAR COVER: The Ultimate Indoor & Outdoor Protection
The Stormproof Car Cover is a unique, industry leading, multi-purpose cover that is both light weight and extremely durable. Manufactured to the exact specifications of your Miata, this cover provides the best all round protection against extreme weather!
Perfect for those living in the northwest region, this car cover also provides substantial protection against UV rays, snow, rain and other pollutants. On top of that, this fabric requires no coatings that wear off - its characteristics are built-in. What's more, this cover can be used both indoors and outdoors.
Features:
Highly water resistant, perfect for protection against rain, snow and other harsh weather conditions
For outdoors & indoors
Ultra-compact and easy to store
Outstanding protection from the sun
Lightweight material yet extremely durable
Micro fibers are inherently protective and breathable
Micro-fiber fabric is soft and won't scratch vehicle's finish
5. Tips On Maintaining A Car Cover
Don't install car covers on newly painted vehicles.
Do not cover a vehicle that has been wrapped.
Convertible tops, windows, sun and moon roofs must be closed completely before covering your vehicle.
Check the status of your vehicle every 3 weeks if it is in storage and under a cover for long periods of time.
In cold environments, do not remove the cover in the unusual circumstance that a layer of ice has formed between the cover and the vehicle. Pour warm water over the cover to expedite thawing, as this ice must be thawed before removal.
Do not rely solely on the elasticized bottom of the cover in even moderate winds. Utilize the integrated security grommets in any substantial wind. If high wind conditions are present (30+mph), the covers should not be used.
6. Compare Your Choices: Check out this table to see what would suit your Miata the most!
| | Mosom Plus | Silverguard | Stormproof | Satin Stretch |
| --- | --- | --- | --- | --- |
| COST | $$ | $$ | $$$ | $$$ |
| OUTDOOR USE | Better | Better | Best | -- |
| INDOOR USE | Good | Good | Good | Best |
| WATER RESISTANCE | Best | Better | Better | -- |
| UV RAYS | Good | Best | Better | -- |
| BREATHABILITY | Good | Good | Better | -- |
| BIRD & TREE DROPPINGS | Better | Better | Better | -- |
| INDUSTRIAL FALLOUT | Better | Better | Better | -- |
| STORAGE SPACE NEEDED | Large | Medium | Medium | Small |
| SOFT TOUCH | Better | Good | Better | Best |
| MILDEW RESISTANT | Yes | Yes | Yes | Yes |
| DING PROTECTION | Best | Minimal | Minimal | Good |
7. Buying a Car Cover
From our website: Once you're sure about the cover you wish to purchase for your Miata, add it your cart and checkout with the account you have registered with us. If you do not have an account, make one or call us and we'll do it for you. It's that easy!
Call: Simply give us a call at 800-642-8295 and we will be happy to place an order for you, and our expert sales staff will answer your queries and help you choose the best cover for your Miata.
How soon will you get your Car Cover? Once you place an order, your car cover will arrive within 5 to 7 business days.
Still confused? Give us a call.