About Moss
Since its start in 1948, and still today, Moss Motors is a company run by enthusiasts for enthusiasts. Our customers drive and maintain vehicles that reflect golden days of British motoring and sports cars, and many of these dedicated individuals have been our customers for decades.
Moss Motors' commitment to our customers and their cars runs deep. We make substantial investments into quality and support for the parts we provide. We are the most trusted name in classic British car parts not because we are the biggest; rather, it is due to the knowledge and character of our staff, Salespeople and Technical Support team. These women and men, many of whom have been at Moss for over 20 years, are indeed the best in the business.
At Moss we work to provide you with the best parts and service at competitive prices. When you partner with Moss for the restoration or upkeep of your vehicle, you are assured of reliable, accurate and helpful assistance every step of the way. Moss Motors is headquartered in beautiful Goleta, California and hosts a warehouse and sales staff in Petersburg, Virginia, too. Both locations welcome visitors—we love to meet our customers in person!—and we invite British car clubs to schedule tours of our facilities as well.
The History of Moss Motors, USA
The Al Moss Years
If way back in 1948 Al Moss had bought a Ford instead of an MG TC, things might have turned out very differently. Al was then a young man living in Los Angeles and the lure of the TC was irresistible. Al became an avid TC enthusiast, and after reading about the successful road rallies being held on the East Coast, in the summer of 1948 he decided to organize one himself. It was one of the first rallies to be held on the West Coast.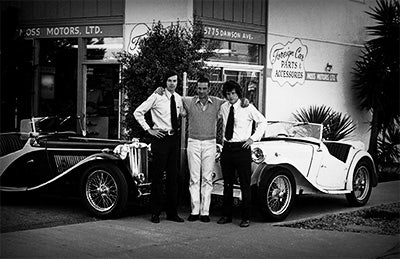 The rally, which ended in Santa Barbara (where we are now based), brought Al into contact with a bunch of fellow MG enthusiasts. He quickly discovered they all shared a common problem - service and parts for these cars were not widely available. Al saw the opportunity and opened an MG repair shop.
Although the company originally specialized in service, a growing demand for spare parts led to an ever greater emphasis on parts supply. After moving to Goleta in 1961, Al published his first MG parts catalog in 1962.
As enthusiasts embraced the British sports car movement, Moss Motors built catalogs for the MGA, MGB, Austin-Healey and Jaguar's XK120-140-150 series. In 1977, Al purchased 48 tons of 'obsolete' inventory directly from Standard Triumph in England, a shipment which filled no less than four 40ft containers, and was in fact, the largest single buyout of TR2-3-4 spares ever.
By 1977, Moss Motors was established as an industry leader. It was at this time, that his long-time friend, Howard Goldman, whose own business was located just across the street, offered to purchase the entire Moss Motors operation. Al eventually took him up on his offer and entered semi-retirement to spend much of his time restoring and racing his collection of British sports cars.
Expansion and Acquisitions
Soon after Howard Goldman took over, Moss Motors moved to a purpose built facility in Goleta, which had far more room and much better access than the prior location. Moss continued to update and revise its catalogs, and the business grew rapidly as more products were added to the line.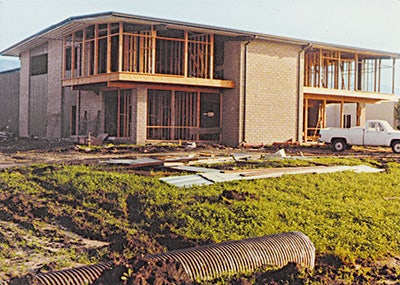 It was during the late seventies that Moss greatly expanded its product research and new product development activities. So many critical components had been discontinued, it was obvious that many British classics would be scrapped, simply because they could not be repaired for lack of parts. In order to keep the business and the hobby alive, Moss took on ever larger development projects. Ultimately, a complete upholstery manufacturing division was established to fill the demand for show quality interiors. The effort continues to this day, and is a great contributor to our strength.
In 1982, Howard Goldman opened a retail car dealership, Moss Jaguar, in downtown Santa Barbara. This operation, under the direction of Harry Haigh, sold Jaguar and Range Rover and earned a reputation as one of the premier dealers in the US. Harry, a former British car mechanic and repair shop owner, earned a national reputation as a meticulous, customer oriented service director and general manager.
In 1983, Moss acquired a company called Start Your Engines in Beltsville, MD. Start Your Engines was one of the pioneering Triumph parts and restoration specialists. This acquisition not only helped us expand our Triumph range, but also yielded a number of Triumph specialists with considerable expertise, many of whom are still with Moss. In 1985, Moss purchased a wholesale automotive supplier, eventually known as CARS.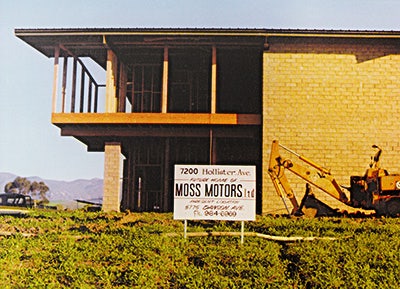 By 1988, Moss Motors was the largest supplier of vintage British sports car spares. The sales staff had grown from 4 to 18 and 12,000 square feet had been added to the main warehouse in Goleta. The East Coast facility had moved twice (due to space constraints), and finally settled in a modern industrial park in Dover, New Jersey. That same year Rover Cars PLC (formerly known as British Leyland) decided to cease distributing original factory parts. They offered to sell their entire multi-million dollar inventory of "obsolete" spares. Moss Motors stepped up and bought the lot.
Once again opportunity knocked and in 1989 Moss Jaguar was sold to help fund the acquisition of Classic British Sportscar Spares. This UK based organization included some of the most respected names in the industry. Among them were Cox & Buckles, Britain's foremost Triumph specialists and their associate company Triumphtune, the original Sprite & Midget Centre in Richmond, Stafford's MG parts in Manchester, and Naylor Bros in Shipley, West Yorkshire. The group became known collectively as Moss Europe. Also in 1989, the Nisonger Corporation was purchased by the Milard Group, as the holding company for the various companies within Moss was known.
The transatlantic connection worked well, but early in 1993 a strategic decision was made to sell the European operation to Ingham PLC, a public textile and motor parts company. At the same time, the trading interests of M & G International, a major competitor of Moss, were merged with those of Moss Europe.
Modern Times
By 1995, space was once again at a premium. The decision was taken to move the whole operation to a 55,000 sq. ft location on Rutherford Street in downtown Goleta. At the same time the upholstery manufacturing and machine shop were consolidated into one nearby facility.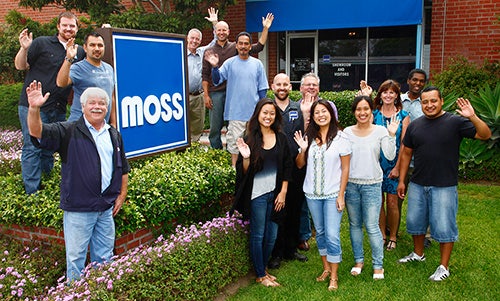 In 1994 an experiment in diversification led to our highly successful Mazda Miata accessories program. The Miata, very British in concept, attracted an involved and enthusiastic customer base and Moss replied with a range of enthusiast products.
In late 1998 Howard decided it was time to step aside and leave the next generation of growth to a new team. Company president, Glen Adams and Howard's son Robert formed a holding company, Motorsport Products Group (MPG), and purchased the assets of Moss Motors, Ltd.
Due in part to a disastrous fire, and intense global competition, in early 2000 the UK company, then known as Moss International, entered receivership. In order to safeguard parts supplies and vendors who depended upon Moss for their livelihood, the US company reentered the UK market, purchasing the assets of Moss International.
As they say, change happens, and faster today than in the past. Since acquiring the UK company we have carried out significant reorganization, changed the name back to Moss Europe and are actively regaining lost UK market share. 2002 saw the introduction of a new BMW Mini catalog, and in 2005 we launched an accessories program for the new 2005 Mustang.
By the end of 2006, the New Jersey facility had long since outgrown its available space. With no room to grow, we decided on a clean sheet approach, and in May 2008 announced the acquisition of a new 112,000 square foot East Coast facility outside Richmond, VA. With the success of the New Mini program, we felt it was about time to complete the circle, and in August 2008 mailed our premier Classic Mini catalog. Times change, but we remain true to Al Moss' original vision - we offer products designed to help enthusiasts enjoy their hobby.

In 2017 Moss Motors purchased the classic Jaguar specialist XKs Unlimited. This strengthen our staff expertise and parts portfolio along a greater range of Jaguar vehicles. And then, in 2020, another opportunity presented itself within our industry; Long Motor Corp. decided to focus on its truck parts business and close the doors of Victoria British Ltd., its classic British car parts division. Both XKs Unlimited and Victoria British were long-standing and highly respected companies with traditions of service that we are proud to carry forward.
Chronology
1948 Al Moss founded Moss Motors
1961 Moss Motors relocated to Goleta
1978 Howard Goldman Buys Moss Motors from Al Moss
1982 Moss East Coast facility opened in New Jersey
1982 Moss Jaguar dealership opened in Santa Barbara
1983 Moss acquires Start Your Engines
1985 Moss acquires CARS
1988 Start Your Engines merged with Moss ECF
1988 Nisonger Corporation purchased
1989 Moss Jaguar dealership sold
1989 Moss purchased Classic British Sportscar Spares, UK, renamed Moss Europe
1993 Moss Europe bought by Ingham Plc
1994 Mazda Miata Accessories Catalog
1996 UK management buy out from Ingham
1998 Moss Motors purchased by Glen Adams & Robert Goldman
2000 Moss Motors purchased assets of Moss International
2008 Moss East Coast Facility relocated to Virginia
2017 Acquired Jaguar parts distributor XKs Unlimited
2020 Victoria British Ltd. acquired by Moss Motors
Moss Motors USA
Glen Adams, Chief Executive Officer
Robert Goldman, Chairman
Ed Moss, President
Moss Europe
Glen Adams, Chairman
Robert Goldman, Director
Fred Lynch, Managing Director
Nigel Lavender, Finance Director
For additional information, contact:
Moss Motors Human Resources
(805) 681-3400