Choosing a Hard Dog Roll Bar for Your Miata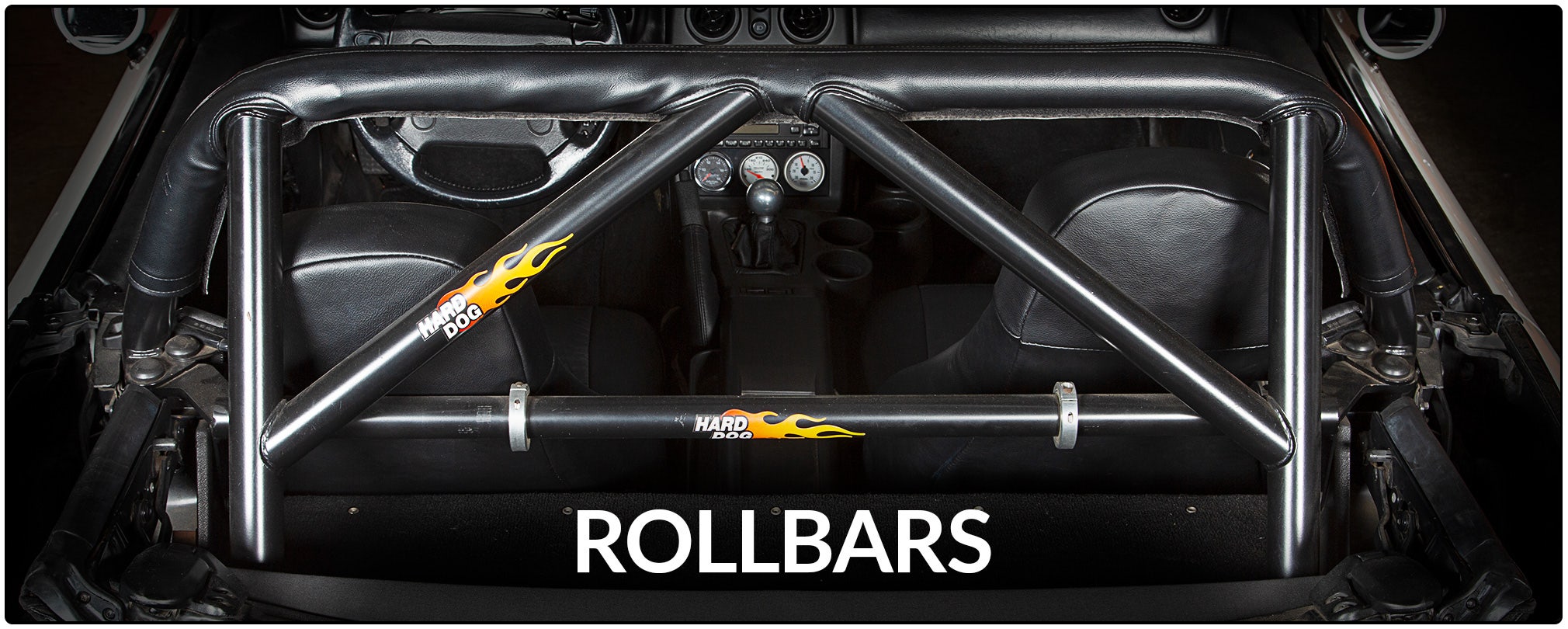 This buyer's guide covers everything you need to know when buying a roll bar for your Miata. From what a roll bar is and its application to why we offer certain models, which safety regulations do they meet, to installation information and much more, we'll cover information that would help you make an informed decision when buying a roll bar. And just in case you think we missed something, give us a call and we'd be glad to help! So, here goes your Roll Bar 101.
1. What is a Roll Bar?
Simply put, a roll bar is a metal bar that runs up the sides and across the top of a vehicle, and lends strength and support to the frame while protecting the occupants in case the car rolls over. Are style bars and roll bars the same? Nope. A style bar, is simply a bar that does more in the aesthetics department, and does nothing in terms of offering protection. Usually bolted only at the top of the seat belt tower, a style bar in most cases will break off at the points of attachment or bend under much force. A roll bar on the other hand does great both aesthetically and in terms of functionality. Adding a sporty, aggressive look to your Miata, it is also strong enough to withstand a car's roll over.
2. Why should you get a Roll Bar?
Safety comes first. Always. Even though Miatas have a low center of gravity and are unlikely to roll, accidents happen from time to time, and can be fatal. The Miata is a convertible and the first two generations of the car 90-05 didn't have any roll over protection from the factory. Installing a roll bar stiffens the chassis quite a bit, and in the eventuality of a roll-over accident, it will add to your protection. Not to forget, having a roll bar is mandatory and encouraged in most motor sports racing events.
3. Why a Hard Dog Roll Bar?
Hard Dog roll bars from Moss Miata hit the trifecta for lending safety, chassis stiffness and stunning aggressive looks. Whether you want an entry level roll bar, a sport version, or something more hardcore and attention grabbing, Hard Dog has the choices and the quality to meet and exceed your needs. For something different, don't forget to check out Hard Dog's Deuce bar and Xtreme.
To put it simply, "Get noticed with a Hard Dog roll bar!"
4. Which Roll Bar should you get?
Here is a simple chart to help you select a roll bar for your Miata:
BAR TYPE
HARD TOP
NB SIZE GLASS REAR WINDOW SOFT TOP
SCCA TIME TRIALS
SCCA SOLO I
NASA HPDE
SCHEMATIC - VIEW BAR POSITION
Ace
Yes
Yes*
Yes**
Yes**
Yes**
Ace
Deuce
Yes
Yes*
-
-
Yes***
Deuce
Hard Bar
Yes
Yes*
-
-
-
Hard Bar
M1 Hard Core
-
-
Yes
Yes
Yes
M1 Hard Core
M1 Hard Core - Hardtop
Yes
-
Yes
Yes
Yes
M1 Hard Core - Hardtop
M2 Hard Core
-
Yes
Yes
Yes
Yes
M2 Hard Core
M2 Hard Core - Hardtop
Yes
Yes
Yes
Yes
Yes
M2 Hard Core - Hardtop
M2 Sport
Yes
Yes*
Yes**
-
Yes**
M2 Sport
Xtreme
Yes
Yes*
-
-
-
Xtreme
* Compatible with most larger than stock NB glass windows.
** Compliant with at least one diagonal brace. A harness bar is recommended.
** Center Braced only
What is the difference between the Sport and the Hard Core?
The Sport is made of 1½ inch tubing while the Hard Core is made from 1¾ inch tubing.
The Sport works with the OEM hardtop and gives you three options: no diagonals, single diagonal, or double diagonals.
The Hard Core comes standard with a single diagonal and optional double diagonals or X-Brace. The Hard Core will not work with an OEM hardtop unless the hardtop version is specified. All M3 roll bars use 1¾ tubing.
What is the difference between the M1 and M2 Hard Dog roll bars?
The M1 is designed to work with a plastic rear window and has a standard harness bar.
The M2 is designed to work with the OEM and most after-market glass rear windows, and has harness tabs in lieu of a harness bar. The M2 will also install on first generation Miatas and is required if you have upgraded to an OEM sized glass rear window.
How much do the roll bars weigh?
The approximate weights are as follows:
Hard Bar - 20 pounds.
Hard Bar Sport - 35-45 pounds depending on options (diagonal, harness bar) (the M2 is a little lighter because it has shorter rear braces).
Hard Bar Deuce/Ace - 45 pounds depending on options.
Hard Dog Extreme - 55 pounds approximately.
Hard Core - 55 pounds (the M2 is a little lighter because of the harness tabs instead of harness bar).
5. Safety
The Hard Dog Roll Bars by Track Dog Racing meet the safety standards for both the SCCA and NASA HPDE.
SCCA Guidelines
The Hard Dog M1 and M2 versions of the Hard Core, Hard Core Hardtop, Sport and the Ace meet the SCCA safety requirements.
NASA HPDE Guidelines
The Hard Dog M1 and M2 versions of the Hard Core, Hard Core Hardtop, the Ace and the center-braced Deuce meet the NASA HPDE requirements.
6. Installation
Can I install a Roll Bar myself?
Things you'll need:
A long 3/8" drill bit
Interior trim remover tool
Air saw or Dremel tool
Sockets
Wrenches
Screwdrivers
Jack and jack stands
So grab some power tools, and make a day of it with your friend as you handle this DIY project.
Does the cross bar that goes between the seat belt towers on 94-97 Miatas have to be removed to install a roll bar?
The cross bar can be reinstalled after the roll bar is installed on Hard Dog Hard Core, Sport, Extreme and Hard Bars only. The purpose of this bar was chassis stiffening. The roll bar serves this purpose as well so you will likely see no difference with this bar removed.
Do I need to get my roll bar professionally installed?
We definitely recommend professional installation if you're apprehensive about installing the roll bar yourself. You can always check with a local Miata club, or a good MX-5 performance shop in your city.
How do I know if my after-market glass rear window fits with a roll bar?
All 1990 - 1997 Miatas came from the factory with a flexible plastic rear window in the convertible top. If your first generation Miata has a glass rear window, it's either aftermarket or a second generation transplant.
The basic 1990 - 2005 Miata chassis didn't change, which allowed the tops and roll bars to interchange. A few quick measurements are very helpful when trying to determine just which bar is compatible.
Factory NB (second generation 1999 - 2005) Convertible Top Glass Rear Window Dimensions for comparison:
Measure the width of the window two inches from the top of the glass. If it is at or under 34", it should fit with any Hard Dog roll bar that is designed for the OEM glass rear window on the 99-05 Miatas.
14" Tall in the center
32.25" Wide across the top measured just below the upper corner radius (approx. 2.5" down from the top edge)

Include the complete assembly including all rigid parts around the edge, and not just the viewing area. Width measurements across the bottom of the glass are of no concern.
Note:99-05 OEM glass rear window compatible models are the M2 Hard Core, M2 Hard Core Hardtop, M2 Sport, Ace without diagonals to rear-ward braces, Deuce, Xtreme and Hard Bar
Will my factory wind blocker work with all the roll bars?
If your wind blocker has built-in speakers, then it won't work. The speakers will need to be removed permanently. However, wind blockers without speakers will work on the Hard Core Hardtop, Sport, and Hard Bar. But you may have to leave it up or down and eliminate the folding option. It will not work on the Hard Core, Ace, Deuce or Extreme.
Do the diagonal bars for the Sport (optional) or the Hard Core obstruct rear view?
Yes and no. The single diagonal bar goes right through your field of vision when you look through your rear view mirror. So, it takes a little getting used to. However, in case of the Double Diagonal version, depending on how tall you are, there may be none or partial obstruction of the rear view mirror. The diagonals appear to be about 1" on either side of the mirror diagonally down to the corners, almost framing the mirror. So, it is more about adjusting to the new set up, and after a few days, you will not even notice it.
7. Buying a Roll Bar
From our website: Once you are sure about the roll bar you wish to purchase for your Miata, add it your cart and checkout with the account you have registered with us. If you do not have an account, make one or call us and we'll do it for you.
Call: Simply give us a call at 800-624-8295 and we will be happy to place an order for you, and our expert sales staff will answer your queries and help you choose the best roll bar for your Miata.
How soon will you get your Roll Bar?
Once you place an order, your roll bar will arrive within 2-3 weeks.
Still Confused? Give us a Call