Customer Loyalty
Save 10% for a Year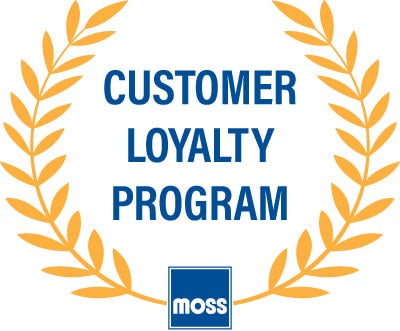 For the Classic British Car Enthusiast and Restorer, we're pleased to offer the Moss Customer Loyalty Program.
Place an order of $1,500 or more and you will automatically earn a 10% discount on your initial order and on all your orders for the next 12 months.*
We appreciate your commitment to classic British cars and in addition to a discount you can use every day, we will provide you with an assigned sales representative to ensure you receive consistent, personalized service.
Enrollment in the Customer Loyalty Program is automatic. With your order of $1,500 or more (at regular retail price) your account will be immediately tagged and placed in the program. Your assigned salesperson will notify you of your status soon thereafter.
Extend your time on the Customer Loyalty Program
Spend a total of $1,000 or more during your year on the program and we will automatically add a second full year to your membership. Order a total of $1,000 or more in each subsequent year of membership and we will continue to add an additional year.
Although some items such as air conditioning kits, 5-speed conversions and superchargers do not qualify for the discount, the purchase of these items will automatically place you in the Customer Loyalty Program and provide you with a year of 10% savings on qualifying parts.
Web orders qualifying for the Customer Loyalty Program will not immediately reflect the discount; the final discount will be applied when the order is invoiced and shipped.
*Details
Your order will be adjusted to reflect the best possible discount at the time of order, and an existing active promotion may supersede your Loyalty discount. To be clear; You cannot have both a promotional discount and a loyalty discount on the same product in the same order.