Austin Healey Vehicle Identification
When ordering parts, it is essential that your car is identified exactly, by model year and serial number. Since many part changes were made during model years, the car number, engine number and body number provide the only positive identification. Quite often a car's title will not show the correct model year. Before ordering parts, please use the space provided below to copy the applicable numbers from your car. Use of these numbers is the best way to insure that you order and receive the correct parts Wherever possible, we have listed part applications by car number(c). In some cases, we had to use the engine numbers(e) or body numbers (b).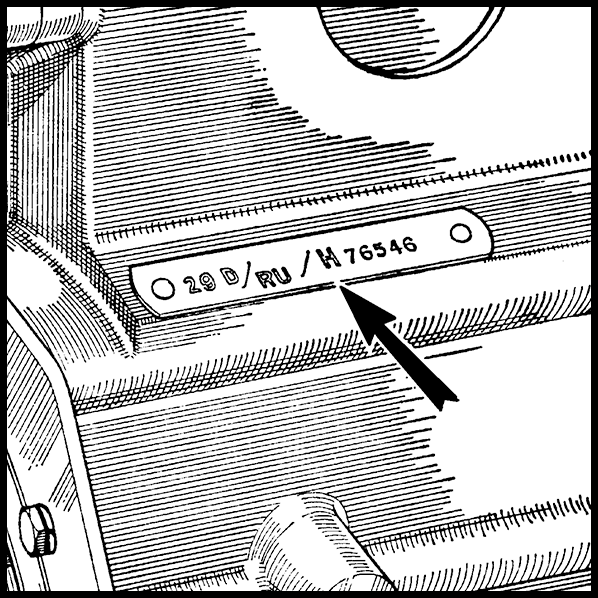 The Engine Number is stamped on a plate secured to the front left-hand side of the cylinder block. (100-6 and 3000 only.) The 100-4 is num­bered on the right-hand side of the block.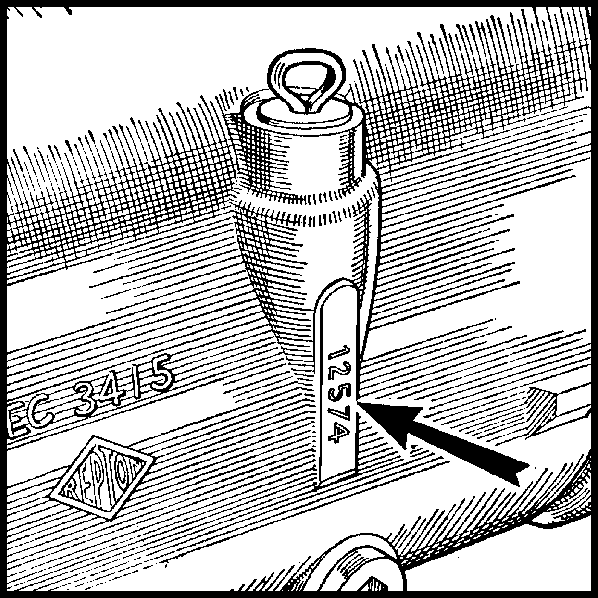 The Gearbox Number is stamped on the right-hand side of the gearbox below the oil level dipstick (except BN1).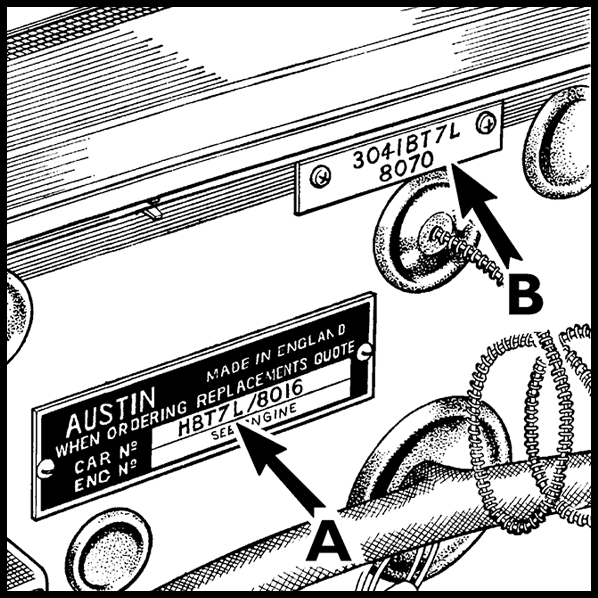 The Car Number (A) and the Body Number (B) are stamped on plates on the right-hand side of the firewall.
Year
Model
Starting Numbers:
Car:
Engine:
Finishing Numbers:
Car:
Engine:
Remarks
1953-55
100 BN1
133234
136894
228026
(unkown)
3-Speed
1956-59
100-6 BN4
22598
(BN4 uses car/engine numbers)
(unkown)
4-speed
1956-59
100-6 BN4
22598
(BN4 uses car/engine numbers)
(uknown)
4-seater
1958-59
100-6 BN6
501
60949
4650
26D-H77766
2-seater
6-port cylinder head
1959-61
3000 BN7 MkI
101
29D-H-101
13750
29D-H-26212
2-seater
horizontal grille slats
1959-61
3000 BT7 MkI
101
29D-H-101
13750
29D-H-26212
4-seater
horizontal grille slats
1961-62
3000 BN7 MkII
13751
29E-H-101
18888
29E-H-5799
2-seater
vertical grille slats
3 x 1 1/2" carburetors
1961-62
3000 BT7 MkII
13751
29E-H-101
19853
29E-E5799
4-seater
vertical grille slats
3 x 1 1/2" carburetors
1962-63
3000 BJ7
17551
29F-101
29FF-101
25314
29F-6188
Roll-up windows
2 x 1 3/4" carburetors
1963-68
3000 BJ8
25315
29F-101
29KF-101
29KFA-224
43026
29FF-164
Roll-up windows
2 x 2" carburetors
wood veneered dash